So I left Tahoe at about 5 in the afternoon and headed for las vegas. After about 7 hours of mach 5 travel in my little go cart of a SUV, I hit Vegas at 2:30 in the morning. Ready for bed I staggered over to the hotel front desk and was trying to check in but the gal behind the counter told me I couldn't check in until 7 am. So I made 500 bucks at the roulette table until 7 and finally went to bed. I woke up around 9 and headed out to the dirt demo on the other side of town. The weather was perfect and the turnout was very large and upbeat.
There was plenty to keep a child entertained for an 8 hour period so I was able to fit in quite well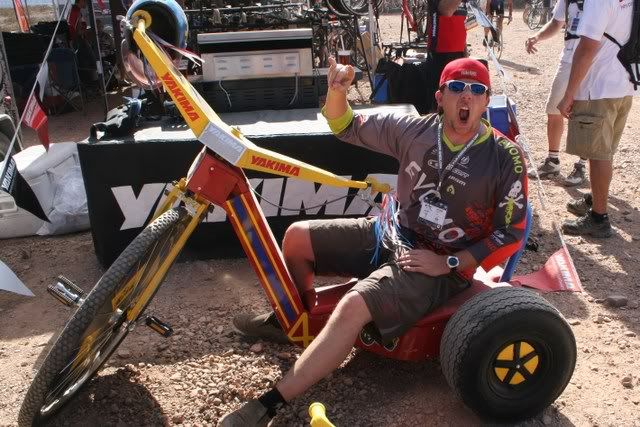 I ran in to a handful of old friends and met a lot of new ones and seemed to find my way into trouble before noon arrived. I had borrowed a bike from the x-fusion gang and hit the shuttle trip to the top of the hill and rode a couple new bikes and pretty much molested every new piece of shiny product out for the day. when I saw these two I thought "pre-nup"
The weather was over 80 degrees and there was a plentiful supply of cold adult beverages on hand to quench any size thirst. For some it was too much for them to bear.
The companies in force for the demo were very impressive. Everything from sram with spec. bikes to kenda with every tire imaginable mounted on bikes for test rides. There was a ton of other doo dad vendors for the bike market and the freebie surfers were in full force.
here is a short little video of the days events and sights.